The Billy Sunday Evangelistic Team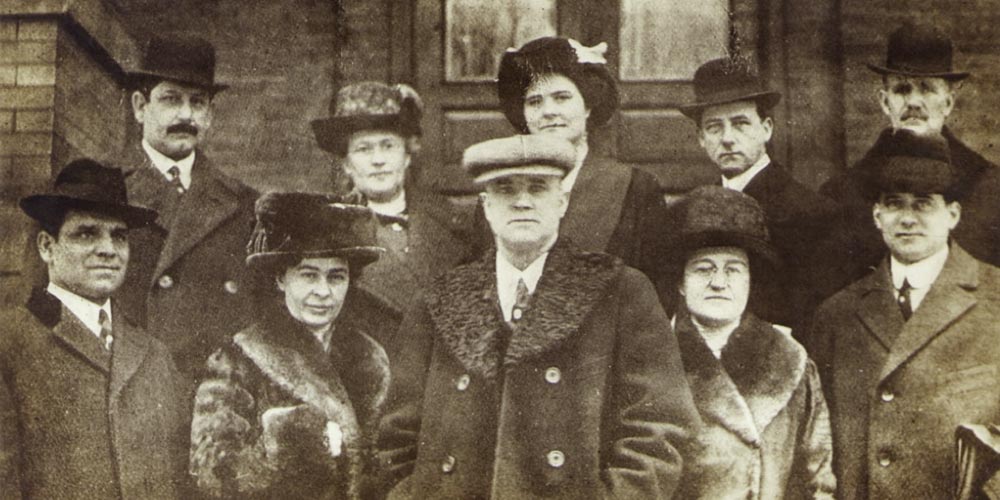 Billy Sunday's evangelistic team (top row, left to right): L.K. Peacock, Unknown, Grace Saxe, Mr. Welch, B.D. Ackley; (bottom row, left to right) Fred Siebert, Francis Miller, Billy Sunday, Virginia Asher, Homer Rodeheaver.
B.D. Ackley
B.D. Ackley (1872-1958), joined the Billy Sunday team in 1907 as a secretary/pianist. He stayed with them for eight years. He would later join the Rodeheaver Company and write more than three thousand gospel songs.
Virginia Asher
Virginia Asher (1869-1937), worked with the Sundays for seventeen years as a solo singer with Homer Rodeheaver. She also organized women to go into offices, factories, and shops, hold meetings, and then invite attendees to the tabernacle. These women's groups were called Virginia Asher Women's Clubs.
Francis Miller
Francis Miller was born in Minnesota and grew up in North Dakota. She graduated from the Moody Bible Institute in Chicago. Her work with the Sunday team between 1911-1921 taught Christians how to be soul winners and how to study the Bible to be a solid Christian.
L.K. Peacock
L.K. Peacock, A native of Pennsylvania, Mr. Peacock was a Pastor of First United Presbyterian Church for seven and one half years before joining the Sunday team. He was a First Assistant to Mr. Sunday and organized prayer meetings and held many important jobs during the Sunday meetings from 1911-1915.
Homer Rodeheaver
Homer Rodeheaver (1880-1955), was much more than a song leader for the Billy Sunday meetings. He was also a soloist, platform manager, entertainer, and even an instrumentalist. He could do magic tricks on occasion, and tell jokes to relax the audience before the preaching began. Many delegations entered the tabernacles playing brass bands or college groups during their cheers. Homer introduced these groups in the tabernacle and made them feel at home. He would sometimes sing duets with Virginia Asher. The two most popular songs they sang were, Brighten the Corner Where You Are and The Old Rugged Cross. Homer was one of the longest living members of the original Sunday team. He led music conferences into the 1950's in Winona Lake where he made his home at Rainbow Point. He was close friends with Billy Graham and Cliff Barrows and was a friend of Mrs. Sunday for the rest of their lives.
Miss Grace Saxe
Miss Grace Saxe (1868-1937), worked with the team between 1911-1921 as a Bible teacher. She had Bible classes in the afternoons in the tabernacle. These classes were very popular and sometimes would continue years after the team left town.
Fred Siebert
Fred Siebert, former cowboy from the state of Washington. His primary responsibility involved soul winning as an assistant for Mr. Sunday from 1905-1915.
Helen Sunday
Helen Sunday (1868-1957), Mrs. Sunday took on the role of business manager for her husband from 1908-1935. She helped plan where the tabernacle would be built and who would be the leaders of the committees in the local cities they were holding meetings. As a more personal level, she was a great encouragement to him. The attacks on Billy were very fierce. She was able to calm his nerves and help him during those difficult times.
John Welsh
John Welsh, served in the organization in 1916 as an advance agent to prepare future cities for tabernacle meetings.